Jedburgh Golf Club is set in the heart of the Scottish Borders amidst outstanding scenery with breathtaking views across the Cheviot hills.
Since we extended from 9 to 18 holes in 2006, our course has matured nicely and offers an abundance of natural beauty – a good challenge to every golfer.
Jedburgh Golf Club was founded in 1893. The course was built on land belonging to Lothian Estates. The original layout was designed by Willie Park of Musselburgh and consisted of 9 holes. The greens were characterised by their square shape and this original square design remains on some of the greens today. The course was formally opened by the Marquis of Lothian in October 1893.
In September 1894 a Grand Bazaar was held in the Corn Exchange to raise funds to finance the erection of a clubhouse and some course improvements. The bazaar took place over two days and raised the sum of £387 0s 3d.
The Clubhouse was constructed and opened by Lord Stratheden. An open handicap tournament coincided with the opening with 57 entrants from across the Borders towns. The tournament began at noon with pairs going off at 4 minute intervals. Walter Rutherford of Jedburgh and TDC Smith of Kelso were the only two scratch players playing. Walter Rutherford went on to represent Great Britain at the inaugural Olympic Games of 1900 in Paris where he won a Silver medal.
The course and the clubhouse remained largely unchanged for the next century. The original Clubhouse is still intact but has been augmented by extensions. The course has remained unchanged apart from the order in which the holes are played.
In 1998, the club purchased land from Lothian Estates and local farmers with the intention of extending the course to 18 holes.
The new layout was designed in 2002 by Alistair Connell of Paisley with construction beginning in December 2003 and completed in the summer of 2005. The new 9 holes were opened for general play in June 2006.
MONTY plays Jedburgh Golf Course in 1993
In 1993 the club celebrated its Centenary with a match between European No 1, Colin Montgomerie, and Club Champion, Calum Brown. It was an evenly contested match watched by a large crowd from Jedburgh and the other Border Towns.
Monty, on the back of a Dutch Open win on the European Tour, was very sporting on the day giving up his time to chat with and have his photo taken with all who wanted it, and is now an honorary member of the club.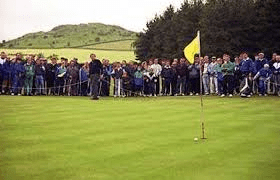 Monty's putt finishes inches from the hole on the 2nd green during his match with Calum Brown, with the Dunion Hill in the background.
Course Record
The current course record is currently 67; a magnificent round of golf set by Gary Hughes in August 2017.