Drainage Works
Our greenkeeping team as well as some voluntary work from our members have been busy installing new drainage ditches on holes 6, 8, 13 & 14.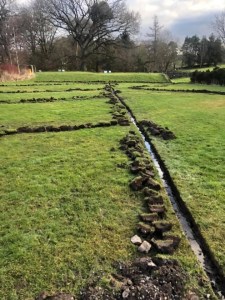 Social Membership 2021
Join us as a social member in 2021 to get entered in to 4 cash prize draws, as well as a complimentary round of golf and invites to our social events for just £25!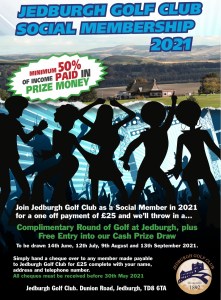 Greenkeeper Announcement
The club are also delighted to be able to announce that our new Greenkeeper, Andrew Chalmers, will begin working with the club on Monday 8th March.
Andrew comes with 25 years experience within the turf industry. Andrew has worked at 6 different golf courses throughout the UK, with his most recent Greenkeeping role having been at Duns for over 5 years.
Andrew will be leaving his current role as Head Groundsman at Floors Castle to join us.
We are excited to be able to bring someone with Andrew's calibre to the club and he has already had a look around the course and has ideas in his head on ways to improve the course.
We hope you will join us in wishing Andrew all the very best in his new role with us.
Honorary Club Captain
We are delighted to announce that Roy Laidlaw has been appointed as Honorary Club Captain at Jedburgh Golf Club for the 2021 season.
Roy is a very popular figure at the club and in the town as a whole. We ask that everyone supports Roy throughout the season to ensure he gets the year he deserves.
2020 Online AGM
All members will now have received papers for our online AGM. Unfortunately we are not able to hold a physical AGM this year due to COVID restrictions, so we have moved everything online. All papers must be submitted by Midnight on Monday 7th December to count.
Autumn Maintenance
Our autumn maintenance schedule is now well underway around the course.
This week, all 18 greens are getting hollow tined and over seeded with sand.
Extra work is to be carried out on the 9th green to improve the putting surface for 2021. There will be a temporary green in play for the remainder of 2020 until the 2021 season begins next spring.
Bob Hewie's 75th Birthday Golf Day
A message from greenkeeper Bob Hewie:
Thank you so much from myself and the Hewie family to everyone who attended my golf day on Saturday to celebrate my 75th Birthday.
I had a great day, and I hope you all did too.
Thanks to everyone for the kind words and gifts.
We raised over £350 to go towards tee blocks for next season, thank you for your generosity.
The winners on the day was a Mother & Son combination:
Gents – Grant Raeburn
Ladies – Eileen Raeburn
2020 Championship Winners
On what was a good golfing day, all 5 finals were keenly contested. The winners were:
Championship – Greg Purdie
Kintail – Rusty Wight
Mackie – Callum Young
Ladies – Pauline Hogg
Seniors – Donald Miller
Hole In One!
Huge congratulations to Heather Hughes, who recorded her first ever Hole In One during the John Tooley Memorial & 1st Championship Qualifier  on the 14th hole. Heather has kindly put a bottle of gin behind the bar for all members to have a drink to toast her achievement.

Thanks to The Southern Reporter for publishing an article to celebrate Heathers achievement. The article can be found here.
The Bar Is Reopening!
From Monday 6th July, we will be opening the bar and you can sit in our outside seating area! The bar is open daily from 11am.
From Monday 15th July, we will be able to welcome limited numbers in to the lounge (socially distanced).
Club Competitions
We have now received official guidance from Scottish Golf about competitive play. A copy of these guidelines will be sent out to all members. Our club competitions will officially begin on Tuesday 7th July for the Ladies, and on Saturday 11th July for the Gents.
The Championship will have 4 qualifiers: 18th July, 1st August, 15th August & 22nd August. Finals day will be on Saturday 29th August.
All competitions to be entered via the BRS app, and scores recorded on MasterScoreboard.
Social Membership Draw – June
Congratulations to Stuart Allen who wins our June social membership draw and collects £50.
Thank You To Key Workers – Have A Round On Us!
Everyone here at Jedburgh Golf Club are very thankful for all the hard work and effort that our countries Key Workers in all various sectors have carried out during the Coronavirus lockdown.
We would be delighted to give something back to you all, and are offering every key worker a FREE round of golf on us, until October!
If you are a key worker, and would like to have a free round, please email us on info@jedburghgolfclub.co.uk to book*.
*Proof of ID will be needed to prove you are a key worker.

Course Reopening
Following on from The Governments updates, we are delighted to confirm that the course will be reopening on Friday 29th May.
All rounds must be pre booked, please use the online booking system in the Member Zone page, or email the club to book a time.
Tree Felling
Tree felling works on the trees surrounding the 2nd green and 3rd tee have commenced. These works are expected to take around 7-10 days to complete.
Jedburgh Golf Club Are Raising Money For NHS Charities – The National Golf Club Challenge
We at Jedburgh Golf Club have joined The National Golf Club Challenge, and have donated a Fourball voucher to go to auction to raise as much money as possible to go to NHS Charities.
Their aim is to get over 1500 different golf courses to donate Fourballs from the UK and further afield to raise money for our NHS Heroes. So far there are over 700 clubs involved.
We have gladly donated a Fourball to help this great cause, and we hope that this raises a huge amount of money to assist the NHS during this time.
To follow the progress of this, head to their Twitter page at NGCC2020
Senior Pairs Open – Thursday 14th May
Due to the ongoing Coronavirus pandemic, we have had to postpone our Senior Pairs Open until Thursday 23rd July. Anyone who has got a tee time booked for the original date will now have received an email from the club with their options.
Country Lockdown – COVID-19
Following on from The Governments announcement to lockdown the UK, we have now had to close the course until further notice.
We have had confirmation that the green keepers are allowed to continue working under strict guidelines during this time, so the course will continue to be maintained.
Coronavirus – COVID-19
Jedburgh Golf Club are closely monitoring the ever changing situation regarding the Coronavirus Pandemic. Please see below our latest guidance which is in line with The Government & Scottish Golf.
*Please note that Naomi's Kitchen & the lounge area are now closed. Naomi is still providing deliveries, please check her offers on her Facebook page.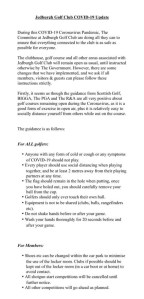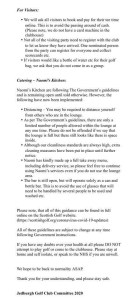 Christmas Meals – Naomi's Kitchen
Naomi is providing special Christmas meals throughout December, including Christmas Day! Pre booking is essential, so if you are interested, please don't hesitate to contact Naomi, all of her contact details are on her catering page.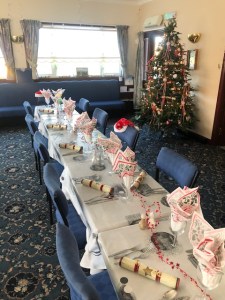 2019 AGM
The 2019 AGM will be held in the Clubhouse on Monday 9th December. All welcome.
Celebrity Golf Day 2019
Huge thank you to everyone who supported and the 72 players who played in our 3rd Celebrity Day on 13th September. The weather was kind to us, and the course was looking absolutely superb in the sun. We hope to welcome you all back to the club at some point in the near future.
Congratulations to The Ex Callants team of D Miller, B Cockburn, G Ramsay & G Hogg for their win on the day.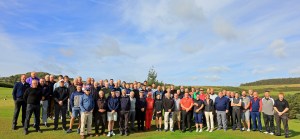 For a full selection of photos from the day, please head over to our Facebook page, where you will find an album called Celebrity Day 2019.
Gregor Townsend's Border Golf Challenge
We are delighted to be welcoming Scottish Rugby Head Coach, Gregor Townsend, to the course on Sunday 8th September as part of his Border Golf Challenge, raising funds for MyNames5Doddie Foundation.
Gregor, accompanied by Doddie throughout, will be playing one hole at each of the 21 courses within the Scottish Borders in one day.
We are course 18 of 21 on the list and Gregor will be teeing off at Jedburgh GC at around 6.23pm.
Gregor & Doddie will be available for photos and autographs while they are at the course, we welcome everybody to come up and cheer them on!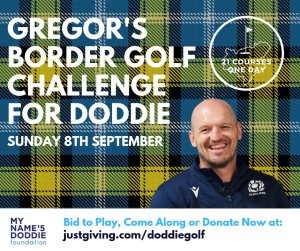 Championship Winners
Massive congratulations to everyone who won their finals on Saturday, there was some tremendous golf on show! The winners were:
Championship – Gary Hughes
Kintail – Gary Hogg
Mackie – John Jackson Snr
Ladies – Celine Nagle
Seniors – Steven McLachlan
Championship Finals
Congratulations to everyone who has qualified for this years Championship Finals. The matches are as follows:
Championship: Gary Hughes v Greg Purdie (10.00am & 13.30pm)
Kintail: Gary Hogg v Chris Levell (10.10am & 13.40pm)
Mackie: Brian Cockburn v John Jackson Snr (10.20pm & 13.50pm)
Ladies: Pauline Hogg v Celine Nagle (10.30am & 14.00pm)
Seniors: Steven McLachlan v George Forsythe (10.40am)
WiFi
We now have WiFi throughout the clubhouse. This is password protected, and the password can be found on a poster inside the lounge.
Junior Afternoons
Jedburgh Golf Club are holding FREE junior afternoon sessions between 2pm and 4pm every Friday (Beginning 22nd March) for children of all abilities and ages! Clubs can be provided during this time so no need for your own set.
This will not be anything serious, it is purely aimed at getting kids up to the golf club to see if they enjoy golf and boost our junior section at the club. If there is enough interest in the longer term, we will be looking to run competitions during the summer months for kids who are interested.
Naomis Kitchen will also be open during these sessions so family can have a bite to eat and drink while the kids are out enjoying themselves!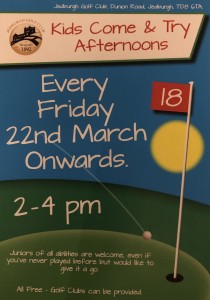 New Catering Franchise – Naomi's Kitchen
Jedburgh Golf Club are delighted to welcome Naomi's Kitchen to the club.
This is a hugely exciting venture and the club are thrilled to be working alongside Naomi. The club will be open to all members of the public for breakfast, snacks and lunches! Menus, special deals and much more to be announced soon! Please give Naomi your full support and spread the word far and wide.
Click on the image below to go to the Naomi's Kitchen Facebook page. Give it a follow for all the latest special offers. Standard menu and opening hours are available on our catering page.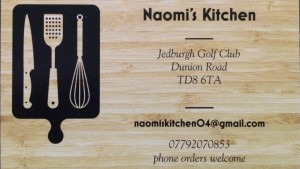 New R&A & USGA Rules For 2019
There are several new rules that have come in to place at the beginning of this season, we recommend that everyone gets a copy of the new rule book to keep in their bag in case of any queries. See the 20 main changes below: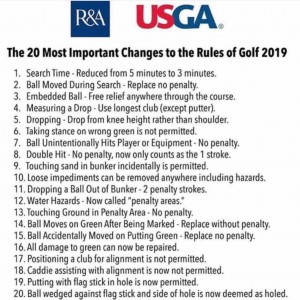 Captains 2019
Jedburgh Golf Club are delighted to announce the appointment of Chris Page as Gents Captain and Celine Nagle as Ladies Captain following the 2018 AGM. Both Chris and Celine are looking forward to a successful 2019 for the club and are excited by the recent course upgrades.
New 9 Maintenance
Maintenance is progressing well on the new 9, with the 9th green having been dug up and redesigned, new drainage installed from the left-hand bunker at the 10th green and all new 9 greens have been reseeded to boost growth. The GUR ditches to the right side of the 12th green have also been filled and seeded. We are still on schedule to complete the new sprinkler system and also carry out the agreed work to the 2 bunkers around the 11th green to open up the right side of the green. This work will be completed over the winter months in time for the 2019 season beginning.